c-tourer I: The sophisticated all-rounder
Sporty, distinctive and cosy: with its "Carthago v-face" front design, two base vehicle versions, a habitation width of 2.27 m and maximum living comfort, the c-tourer surpasses every
requirement of the premium class.
c-tourer Comfort
If certification within the 3.5 t weight class is not essential and comfort is more important than weight, the c-tourer Comfort models are the right solution.
c-tourer on Fiat Ducato

All Carthago c-tourer models are available on the Fiat Ducato chassis which has proven itself for many years and has been extensively upgraded in recent years, is lightweight and particularly economical.

c-tourer on Mercedes-Benz

With the four most popular models, you can opt for a powerful chassis from Mercedes-Benz with AL-KO low-frame. The technically innovative base vehicle impresses with maximum comfort and modern safety and assistance systems.
Models: I 148 LE, I 149 LE, I 150 QB
Weight class
Comfort-oriented layouts from a vehicle length of 7.39 m
Considerable feeling of spaciousness and high payload reserves with a gross weight of up to 4.5 t
Chassis
Fiat Ducato 35 light/40 heavy or Mercedes-Benz Sprinter 415 CDI, special Carthago AL-KO low frame with 198 cm wide rear axle wheelbase
Fiat Ducato safety package as standard: Airbag, ESP, ABS, ASR, electronic immobiliser, Hillholder, Traction Plus, Hill Descent Control, automatic start/stop, cruise control, side wind assistant, stability control for trailer, collision braking system / Mercedes-Benz Sprinter: Airbag, side wind assistant, Hillholder, ABS, ASR, EBV, ESP
Carthago driver's cabin visibility concept
Carthago full LED front headlights**
XL habitation door "premium two 2.0" with wider entrance size of 63 cm, secure double locking and extra-wide door window
Living comfort
"Smartline plus" furniture design, choice of two worlds of style
Stepless, continuous floor in living area
L-shaped lounge seating area with ergonomically designed upholstery, wide side seat bench and 360° rectangular living area table with chrome piping
Comfort corner kitchen, corner kitchen* with six large drawers, raised kitchen counter for visual room partitioning and as additional storage area, "Profi Gourmet" 3-ring hob and stainless steel round sink
Combined washroom, comfort luxury washroom: Maximum comfort with a completely separable changing room
Extra-large beds with sleeping area up to 200 cm length
Storage space
Double floor with huge heated storage compartment with usable height of up to 55.5 cm
Exterior access via several large hatches, convenient access from the interior via the seat bench cover of the L-shaped lounge seating area and the lift-up side seat bench
Large, central through-loading space (interior height 22 cm) with extra-low double floor storage compartment (usable height 46 cm) with large, self-supporting living area floor hatch
Scooter garage: interior height up to 120 cm*, loadable up to 350 kg
Self-sufficiency / equipment
150 l fresh water, 140 l waste water
1 x 80 Ah gel battery (extendible to 2 x 80 Ah)
Air conditioning/heating
Truma Combi 6 warm air storage heating system optional: Alde warm water heating
Double floor with underfloor heating effect
* depending on model
** optional
The essential guide to 2021 Motorhomes & Campervans 2021

"Inside, the new dark floor design with the PVC covering impresses, while the elegant TV cabinet - also a new feature - integrates perfectly behind the L-shaped lounge seating area."
The essential guide to 2021 Motorhomes & Campervans 2021

"An elevated kitchen worktop located behind the L-shaped lounge/seating area elegantly seperates the area from the kitchen with its curved counter."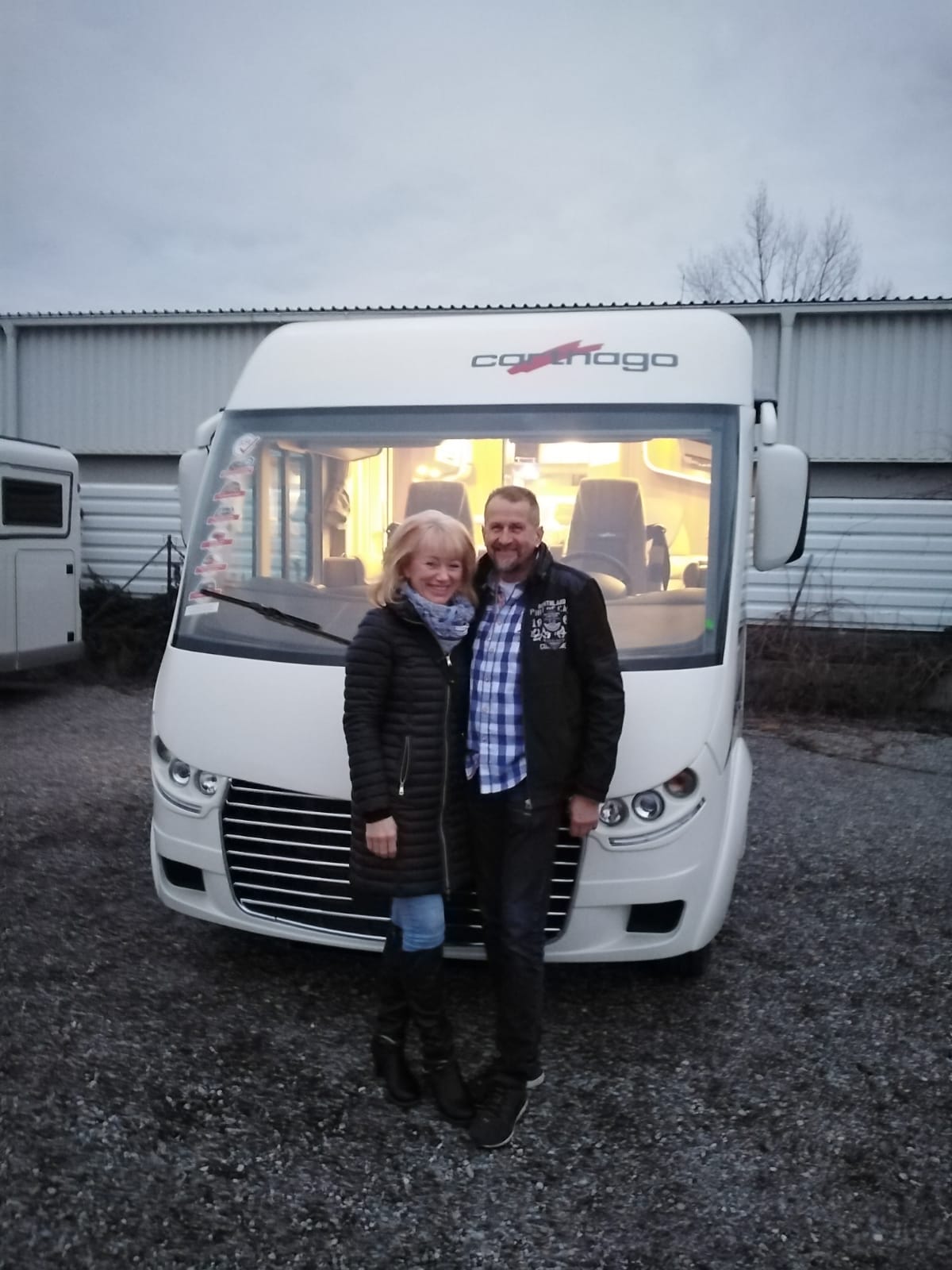 Testimonial

Family Mayerl
"An important factor in the decision to buy was the 3.5-tonne class - but without having to make any major compromises in terms of build quality and living comfort! We are very happy with the c-tourer and, despite the lightweight class, we can store our hiking and motorbike equipment and our bicycles in the large rear garage!"