Exterior design leadership
Distinctive, unmistakeable, unique: A Carthago is THE face in the crowd. It is just as individual as its owner. The evolutionary Carthago design sets standards that go beyond the motorhome industry. Shape and function combined into a perfect symbiosis. Powerful radiator grille and elegant cab mask, stylish rounded side wall to roof transition, offset sills and a striking rear – with the subtle ecals, this all combines to produce the typical Carthago appearance. With harmonic shapes and flowing lines. Every detail is well thought-out. The main cabin window and hatches are flush-mounted in the side walls. Even the filler cap of the integrated motorhomes is flush mounted. The rear lights finish off the vehicle – with a light graphic with the Carthago C-design.
Your added value with Carthago
Distinctive and unmistakeable exterior design
Elegance and dynamics due to the three-dimensional shapes and curves
Individual appearance due to unique design concept
Flat bodywork surfaces due to invisibly recessed hinges and flush-mounted integrated tank flap
Interior design leadership
Carthago has been named as the clear favourite in the exterior and interior design categories time and time again in the voting for the motorhome of the year. To us, this means pleasure and commitment at the same time. All Carthago developments, the choice of materials that are used and the workmanship thereof take place with considerable care. With a great deal of commitment and personal passion, down to the smallest detail. The result is a special Carthago living fascination. A feel-good factor which you can see and feel when you enter a Carthago motorhome for the first time.
Your added value with Carthago
Furniture made in our own Carthago joinery
Stable "Durafix" double connection technology screwed in place and mortised
No creaking or rattling while driving noise reduction by means of anti-knocking cushioning
Holders, hinges and rails in solid, household quality
Seating comfort on long journeys thanks to the ergonomically shaped quality upholstery
Indirect lighting with LED lighting technology for pleasant lighting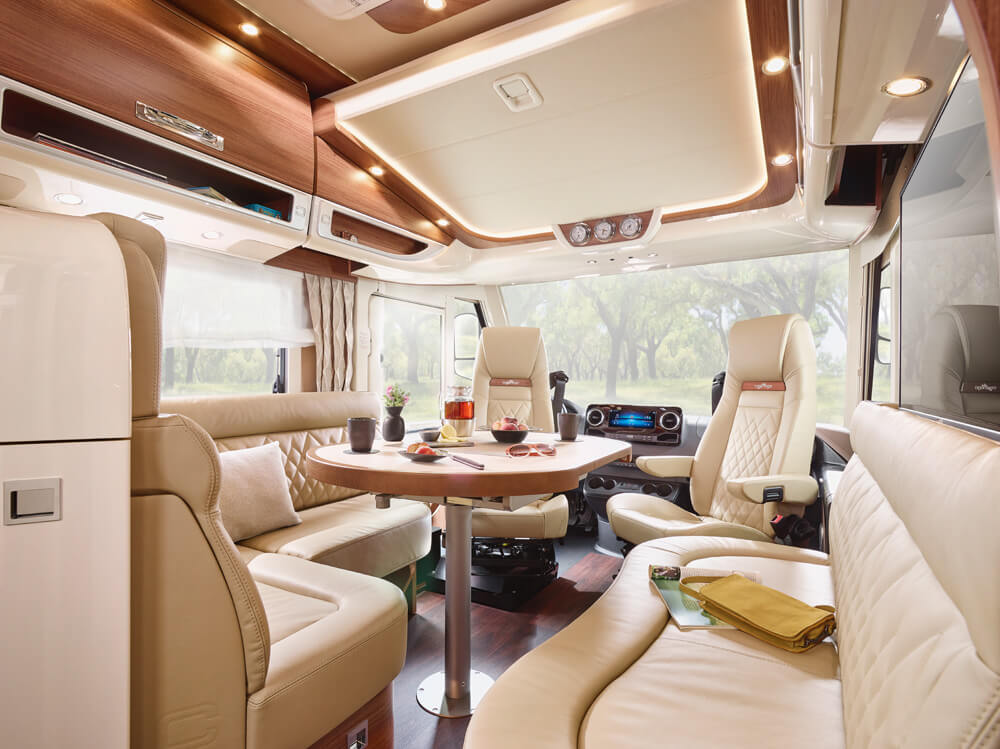 More than just a hint of luxury
The Macchiato Performance 21 and Sand Performance 21 leather variants with diamond quilting are reminiscent of exclusive yachts. Models on the Mercedes-Benz Sprinter
chassis also combine the Carthago-typical leather-covered dashboard with the modern MBUX infotainment system in 7" or 10.2" (optional).