Wellness oasis - No compromise in the washroom during the holidays
Whether combined washroom, comfort washroom, comfort luxury washroom or XL washroom - in a Carthago, personal hygiene means a pleasant experience instead of an unpleasant task. In our motorhomes you do not have to make any compromises and have a bathing experience like at home, no matter where you are. Today we would like to introduce you to the advantages of our XL washroom with changing room in the chic c-line XL range. Our product manager Matthias Frorath shows you all the advantages of this dream washroom in a video. We also explain the function of the intelligently designed changing room.
The XL washroom of the chic c-line series impresses with a wooden sliding door between the washroom and bedroom. With the full length mirror placed on top of it, the entire room appears much larger on the one hand and on the other hand you have the opportunity to take another look in the mirror before you leave the motorhome. The floor-to-ceiling wardrobe next to it is practical. The open washing area opposite with designer washbasin offers plenty of space for your cosmetics or towels thanks to the washbasin drawers underneath.
Our product manager Matthias Frorath shows you the highlights of the chic c-line XL washroom.
One highlight is certainly the addictive hot water underfloor heating. The additional heating coils in the raised floor area of the washroom ensure pleasant temperatures.
Thanks to a solid wooden door, the toilet room can also be separated. With two further sliding doors, you can create a complete separation from the bedroom and living area. We will show you exactly how this works here: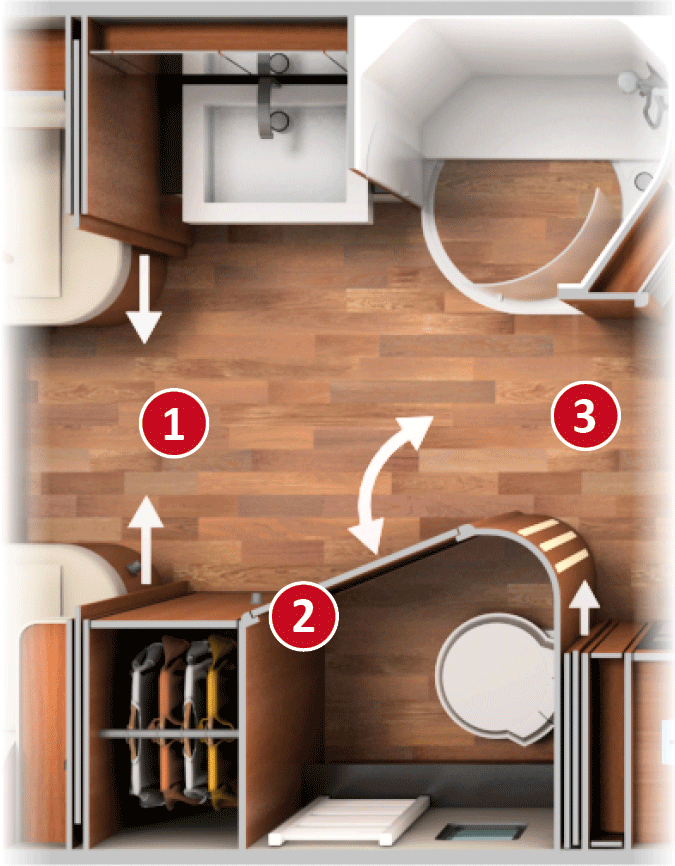 The XL models have an extremely spacious XL washroom with integrated, floor-to-ceiling wardrobe which also functions as a changing room at the same time. Description depending on model.
(1) Solid wooden sliding doors with partitioning from sleeping area and (2) solid wooden door for partitioning from toilet room. (3) Additional solid wooden sliding door for partitioning from living area.
(3) Room partitioning from living area and toilet room using solid wooden sliding doors and (2) solid wooden door.
The XL washroom is available for the following models: chic c-line I 5.9 XL LE, I 6.2 XL QB and chic e-line/s-plus I 61 XL LE, I 64 XL QB
Summary of our other motorhome washrooms
Vario swivelling washroom with changing room: internal swivel wall and sectional shower door. Washroom and toilet room or shower room thanks to wash basin wall mirror that can be swivelled away
Available with: c-compactline I 141 LE, c-tourer I 141 LE
Luxury washroom with changing room: spacious washroom and toilet with shower opposite
Available with: c-compactline I 144 LE/QB, c-tourer I 144 LE/QB, I 149 LE, I 150 QB, chic c-line I 4.9 LE, I 4.9 LE L, I 5.0 QB, I 5.0 QB L, I 5.3 QB SL, chic e-line I 50 LE, I 51 QB, I 52 QB, liner-for-two