Celebrating 50 Years of Chelston Motorhomes
2nd to 4th June
This year Chelston Motorhomes are throwing a party to celebrate 50 Years of the famous Chelston Brand and you are Invited! On the 2nd, 3rd and 4th of June you can enjoy a Complimentary BBQ and Refreshments whilst you view the current stock of motorhomes, then relax in the marquee and perhaps order a drink from the show bar.
But how did it all start?

In 1973 Brenda and Stanley Eyles purchased Snows Garage on the A38 near Wellington in Somerset. The Chelston Brand was born when they renamed the business "Chelston Motors and Petrol". 1986 saw the first appearance of motorhomes on the site... and the rest, as they say is history!

Having outgrown the original site the decision was taken to purchase land on the Business Park at Chelston to develop a brand new Motorhome and Caravan Centre. In the spring of 1998 the first turf was cut and the building which is Chelston's current home was finally completed and opened in 1999.
Look how far Chelston have come since then. Today Chelston Motorhomes are a thriving dealership boasting modern sales, servicing and warranty facilities on-site as well as a dedicated accessory store and motorhome technology centre.

Chelston motorhomes became a Carthago Dealership in more recent years and the partnership has been a match made in heaven. Today Chelston are proud to be regarded as the biggest Carthago dealer in the Southwest and are delivering more new & used Carthago Motorhomes every year. The build quality, high-end technology and elegant looks of the Carthago meet the high expectations of Chelston customers and so the partnership was always destined for a long and bright future.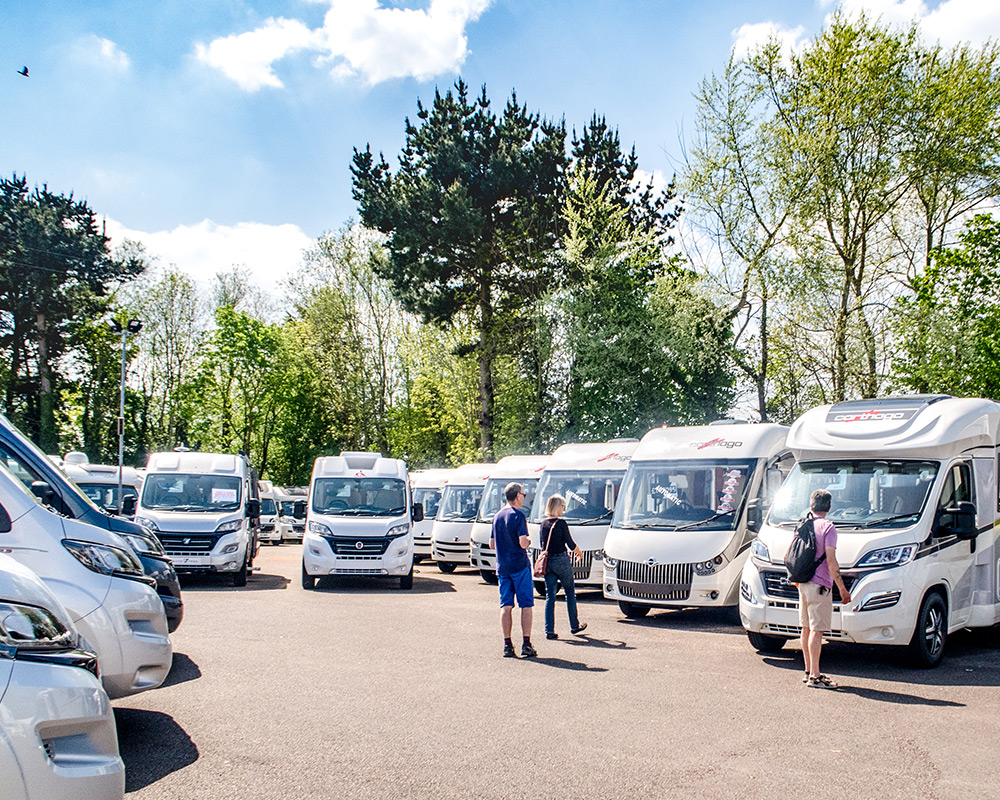 Chelston's 50th Anniversary event could be your chance to find the vehicle of your dreams. Guided by our specialist sales advisors who will be on-hand for support during the event. All motorhomes and campervans will be open for viewing during the event so that you can view at your leisure. Be sure to take advantage of the complimentary BBQ and refreshments available in the Marquee.
The motorhome accessories shop will be open during the Anniversary Event and is the place to buy all your touring essentials. Chelston also stock all those items that make touring more comfortable and more entertaining. From folding chairs and tables to BBQ's you will find most items in-store.
You can find the Technology Centre in the main building. There, all the latest motorhome technology is supplied and fitted so that you can relax and focus on having fun. The extensive product ranges include the latest TVs, satnavs, Wi-fi, solar panels, entertainment systems, aircon, reversing cameras, towbars, awnings and much more.
Chelston's 50th Anniversary Motorhome Event is open 9am to 5.30pm on the 2nd and 3rd of June and 10am to 5pm on Sunday the 4th June.
Entry and parking is free and the event is being held at Chelston Motorhomes base at Chelston Business Park, Wellington, Somerset. TA21 9JE.
For more information call 01823 662075 or go to the website at www.chelstononline.co.uk or www.chelstononline.co.uk/chelstons-50th-anniversary-event