c-compactline Super-Lightweight
The lightest motorhome of the A-Class 3.5 t Premium class
Suitable for remote areas thanks to the 15 cm narrower exterior width and the compact vehicle lengths. Lightweight does not mean having to forego anything. At least not with Carthago! The c-compactline Super-Lightweight sets the standard in the 3.5 t weight class, without making compromises with regard to quality and comfort.
Weight class
Light and manoeuvrable: external width of just 2.12 m and short vehicle length of less than 7 metres
Carthago lightweight construction technology – outstanding payloads, also in the 3.5 t weight class
Loadable up to 4.25 tonnes
Chassis
Fiat Ducato 35 light/40 heavy with AL-KO low frame
Fiat Ducato safety package as standard: Airbag, ESP, ABS, ASR, electronic immobiliser, Hillholder, Traction Plus, Hill Descent Control, automatic start/stop, cruise control, side wind assistant, stability control for trailer, collision braking system
Carthago driver's cabin visibility concept
XL main cabin door "premium two 2.0" with widened passage size of 63 cm, secure double locking and extra-wide door window
Living comfort
"Smartline" furniture design – adapted to the narrow vehicle width for maximum living comfort and more freedom of movement
Stepless, continuous floor in living area
L-shaped lounge seating area with side seat bench, pull-out side seat* and rectangular living area table with chrome piping
Kitchen with six large pull-outs, raised kitchen counter for visual room partitioning and as additional storage area, "Profi Gourmet" cooker and stainless steel round sink
Different washroom solutions: maximum comfort in a small space, separable changing room*
Beds with extra-large sleeping dimensions
Storage space
Double floor with huge, heated storage compartment, usable height up to 55.5 cm
Exterior access via several large hatches, convenient access from the inside via the seat bench cover of the L-shaped lounge seating area and the lift-up side seat bench*
Large, central through-loading space (interior height 22 cm) with extra-low double floor storage compartment (usable height 46 cm) with large, living area floor hatch
Scooter garage: interior height up to 120 cm*, loadable up to 350 kg
Self-sufficiency / equipment
150 l fresh water, 140 l waste water
1 x 80 Ah gel battery (extendible to 2 x 80 Ah)
Air conditioning/heating
Truma Combi 6 warm air storage heating system
Double floor with underfloor heating effect
* depending on model
Reisemobil Intrnational 11/2021

Dauertest
"Mit rund 6,70 Meter Länge, gerade mal 2,12 Meter Breite und vergleichsweise kurzen 3,52 Meter Radstand ist dieser c-compactline ein Musterbeispiel für ein wendiges und handliches Reisemobil."
Reisemobil International 01/2021

c-compactline Super-Lightweight test drive
"These A-Class vehicles are just 2.12 metres wide and make a downright dainty impression in comparison to the competition, particularly when viewed from the rear. In spite of this, they have all of the features of a typical Carthago: Heated double floor, wood-free main cabin, high-quality furniture construction and the characteristic rounding [...] Particularly in the version without the drop-down bed, the Carthago provides spaciousness and living comfort that is more reminiscent of a holiday home than a motorhome."
Reisemobil International 05/2021

Dauertest
"Zusammen mit dem auffallend schlanken Aufbau (2,12 Meter breit) wuselt dieser Integrierte ziemlich behände auch durch enge und kurvenreiche Passagen. Trotzdem bleibt innen Platz für zwei bequeme Längseinzelbetten und die bekannt solide Carthago-Konstruktion mit Doppelboden kann der c-compactline auch vorweisen."
Wildcamper

Vorstellung
"Das Wohnmobil Carthago c-compactline I 143 LE (2021) ist ein handlicher Integrierter. Es punktet nicht nur mit einer guten Ausstattung und einem super Raumgefühl. Auch das Handling im Alltag ist dank der geringeren Aufbaubreite erstklassig."
Promobil 10/2020

Supercheck
"The c-compactline is the only slim integrated that transfers two important luxury-class insignia into the slim format with its aluminium body and genuine double floor based on the Fiat Ducato with Alko low-frame."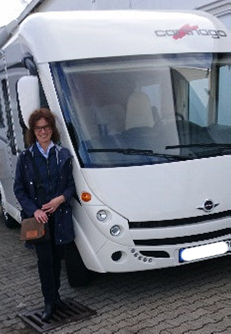 Testimonial

Sibylle Werner-Nagl
"The c-compactline is the perfect motorhome for me. Thanks to the 15 cm narrower exterior width, I can easily drive through the narrower alleys in cities like Bolzano in South Tyrol or on narrow mountain roads. Despite the compact vehicle length, I have an enormous amount of storage space for my equipment thanks to the huge double-floor cellar - and that in the 3.5-tonne class!"