The jewel in the crown of the Carthago Liner class: more comfort, more self-sufficiency, more independence
The chic e-line impresses with pure elegance, both exterior and interior, thanks to its unique "emotional" furniture design and tremendous living area height of 211 cm. The self-sufficiency champion is more exclusive and comfortable than ever. Available on the Fiat Ducato/Mercedes-Benz Sprinter: AL-KO single and twin axle.
chic e-line on Fiat Ducato

Elegant, comfortable and extremely practical at the same time. With these attributes, the chic e-line defines the ascent into the Carthago Liner premium class. All Carthago chic e-line models are available on the Fiat Ducato chassis that has proven itself for many years and have been extensively upgraded in recent years, are light and particularly economical.

chic e-line on Mercedes-Benz

With the four most popular models, you can optionally opt for a powerful chassis from Mercedes-Benz with AL-KO low-frame. The technically innovative base vehicle impresses with the highest level of comfort and modern safety and assistance systems.
Weight class
Comfort-oriented floor plans with permissible gross weight of up to 4.8 t (Fiat Ducato)/4.5 t (Mercedes- Benz Sprinter) or 5.5 t (Fiat Ducato DA, Mercedes-Benz Sprinter DA)
Chassis
Fiat Ducato 40 heavy/Mercedes-Benz Sprinter 414 CDI, AL-KO low frame special Carthago chassis with 198 cm wide rear axle wheelbase. Fiat Ducato safety package as standard: Airbag, ABS, ESP, ASR, electronic immobiliser, hill holder, Traction Plus, towing stability control, collision braking system, automatic stop / start, cruise control, side wind assistant (single axle) / standard Mercedes-Benz Sprinter safety package: Airbag, side wind assistant (single axle), hill descent control, hill holder, ABS, ASR, EBV, ESP
Carthago driver's cabin visibility concept
Carthago full LED headlights (dipped beam and main beam) including LED daytime driving lights
Electric pleated windscreen blind with individually programmable privacy and sun visor function
"Safetylux" XL habitation door with extra-strong and stable door, wider passage dimensions of 63 cm and large door window
Living comfort
"Emotional" exclusive furniture design, choice of two worlds of style, two-level room concept with extra-high 211 cm living area
Large round seating area with luxury living area table, wide side seat bench and swivel-out shoe cabinet
Corner kitchen with pull-out kitchen work surface and worktop extension, electric central locking for the entire kitchen area including the pull-out work surface, bar and shoe cabinet and automatic locking while driving
Comfort luxury washroom, separable changing room, solid wooden sliding door
Storage space
Double floor with huge, heated storage compartment, usable height up to 70 cm
Exterior access via several large hatches, convenient access from the inside via the seat bench cover of the round seating area, the swing-up side seat bench and the large living area floor hatch
Large, central through-loading space (interior height 22 cm), with extra-low double floor storage compartment (usable height 46 cm), convenient loading through habitation door via a large, self-supporting living area floor hatch
Scooter garage with interior height of up to 132 cm*, load capacity up to 450 kg
Self-sufficiency / equipment
235 l fresh water, 185 l waste water tank
2 x 80 Ah gel battery (extendible to 3 x 80 Ah)
Air conditioning/heating
Alde warm water heating
Double floor with underfloor heating effect
Carthago driver's cabin thermal concept
XL highlights
Fiat Ducato 40 heavy DA or Mercedes-Benz Sprinter 414 CDI DA, AL-KO low frame special Carthago chassis with 198 cm wide wheelbase rear axle and permissible gross weight of up to 5.5 t (chic e-line XL)
Iveco Daily, ladder frame chassis with high-traction rear-wheel drive and dual wheels with permissible gross weight of up to 6.7 t (chic s-plus XL)
Large XL round seating area with long, pull-out side sofa, including access to storage compartment beneath
XL washroom with separate toilet room, open washing area and spacious round shower, room partitioning from living and sleeping areas via two solid wooden sliding doors, creating an XL washroom and changing area
* depending on model
Golf'n'Style 02/2021

"Our Carthago motorhome is ideally suited for a pleasure trip. The complete golf luggage from the e-trolley to the cart bag as well as two e-bikes fit so easily into the spacious integrated motorhome garage that there is even room for the barbecue and outdoor furniture. More quality of life is hardly possible!"
Promobil 02/2020

New feature presentation
"With a Mercedes chassis, Carthago is now also fulfilling its premium promise down to the very basis of the vehicle. [...] The visibility is improved by a large windscreen. [...] New furniture design and revised overhead storage cabinets provide a modern look in the interior."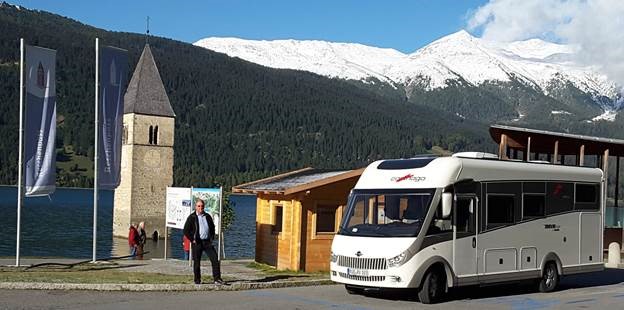 Testimonial

Werner Wendler
"We really enjoy travelling in the winter months. With our chic e-line, we have absolutely reliable technology, a high level of comfort and plenty of storage space, even for bulky items such as ski equipment. Thanks to the even heat distribution of the heating and the underfloor heating effect, we don't freeze in the motorhome, but have a real feel-good climate even in winter."