Gold Award for the Carthago Group
At this year's Owner Satisfaction Awards from Practical Motorhome and The Camping and Caravanning Club, our company was awarded the Gold Award in the category "Best Manufacturer - New Motorhomes". The award has a special meaning for us as the winners were voted by the readers of Practical Motorhome and the members of The Camping and Caravanning Club. A total of 5,081 people took part in the vote. This means that the award is very representative of the current market situation and the mood of customers and prospective customers. The Carthago Group achieved an overwhelming result of 83.4%.
The Practical Motorhome Owner Satisfaction Awards were launched in 2004 with the aim of helping readers with their buying decisions. The Awards have since expanded and this year was the sixth year organised by Practical Motorhome in association with The Camping and Caravanning Club. The strong growth in the number of participants shows how popular the award has become. Whereas last year 2,668 people gave their votes, this year 5,081 participants have voted already.
Many of our dealers are also among the winners in the categories "Best Dealer - new motorhomes" and "Best dealer - pre-owned motorhomes".
You can find out more about the Owner Satisfaction Awards in the next issue of Practical Motorhome, which will be on sale from 5 January. There you will not only be able to take a closer look at the winners, but also learn more about the scoring and the background of the award.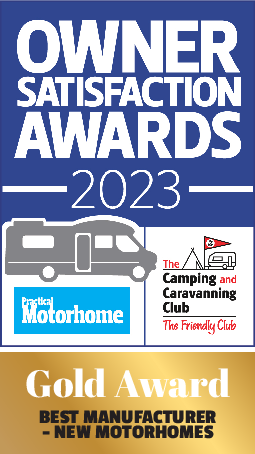 In order to maintain or even improve on this result next year, we will continue to focus on producing vehicles with the best quality. This is reflected in each of our motorhomes by the Carthago Premium DNA. If you would like to know more about this then click here or visit one of our numerous dealers in the United Kingdom. An overview of all our dealers can be found here.
If you prefer to discover our award-winning models from the comfort of your sofa, then we would like to recommend our 360° views. With these, you can explore our ranges online at your leisure. If you would prefer to hold something printed in your hands, then you can also simply order our catalogues to take home and browse through them to discover your dream vehicle.
Another goal in order to rank high in next year's Owner Satisfaction Awards is to continue to provide you with the transparency you are used to with information about our company, production and our vehicles. With this in mind, this week we launched a new "Inside" video in which our Managing Director Sales, Marketing and Customer Service Bernd Wuschack and employees from our production talk about the current difficulties in the production process and chassis delivery. Are you interested in this topic? Then watch this video.
We have also collected all the answers to questions on the subject of the "delivery situation" for you here.
Speaking of production: If you would like to take a look behind the scenes of our production and see how we work, then feel free to visit us at our Carthago City headquarters in Aulendorf in southern Germany and take part in our factory tours. You can stay overnight on our company-owned site, discover our models in our exhibition hall and there is also much else to experience around Aulendorf. Find out more here.